Cardiovascular disease is the leading cause of mortality and disability in the world. Patients with cardiovascular risk factors can reduce their risk of developing adverse cardiovascular events through lifestyle modification and medications. Unfortunately for many, the disease may go undiagnosed until the occurrence of serious events such as myocardial infarction or stroke. Identifying biomarkers of subclinical ischemia can help identify patients with occult cardiovascular disease.
Our laboratory identified a novel biomarker of ischmia in the retina which we termed Retinal Ischemic Perivascular Lesions (RIPLs). RIPLs can be detected using an optical coherence tomography (OCT) scan, a non-invasive diagnostic tool commonly used in ophthalmology and optometry clinics to create images of the retina.
Link to the paper published in EClinical Medicine by the Lancet.
Link to the paper published in Ophthalmology Retina.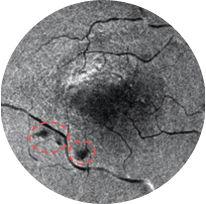 We are leading a multi-institutional collaboration to test the utility of using RIPLs to detect occult cardiovascular disease in propsective studies.
* Clinical and research fellows and medical students interested in clinical research are encouraged to apply.